Crimson's Bahama Breeze RN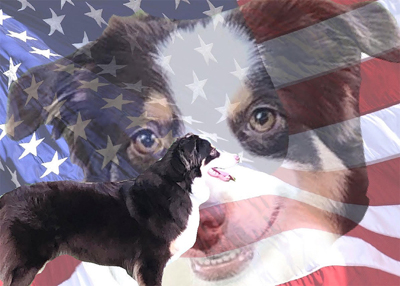 Breeze is a sweet little red tri girl from parents Splash and Captain. She is only 15 1/4" tall and weighs 22 lbs. Breeze was born here at Crimson MAS on 11/18/17 and lives in a co-own home with Brenda and Ken in Troy Missouri. Breeze shares her home with a tiny Pomeranian and several cats and gets along well with them all. She has a wonderful temperament and helps with the chores by keeping the chickens in line and is also a fierce stick chaser. Breeze is good with kids and loves playing with the grandkids when they visit. Her favorite place to be is on the back of the couch napping when she can get away with it. Breeze is very smart, has done well with her obedience classes with Brenda, and has the man of the house wrapped around her finger! Breeze has her Rally Novice (RN) title.
Breeze has now been retired from puppy duty and is living her best life with her family, her puppies are carrying her legacy in amazing pet and performance homes. Many Breeze puppies have their titles in Agility, Rally Obedience, Fast Cat, Dock Diving, Barnhunt, Trick Dog, Farm Dog and Canine Good Citizen.
Health testing -
Genetic Tests - Clear by Parentage: CDDY, IVVD, CDPA, CEA, DM, HC, MDR1, CRM1, PRA-PRCD
OFA Hips: Good
OFA Elbows: Normal
OFA Patellas: Normal
OFA Dentition: Normal (full dentition). Scissors bite
OFA health testing link: Crimson's Bahama Breeze