Our co-owned dogs
Breeze
Crimson's Bahama Breeze RN is a sweet little red tri girl from parents Splash and Captain. Breeze loves her people, her Pomerian brothers and her cats.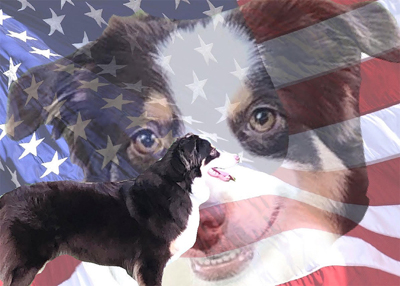 To learn more about Breeze please visit her page ~ Breeze
Jovi - URO1 Crimson's Shine Like A Rockstar RN FDC NA NAJ NF CA DCAT SWM SEME RATN CGCA CGCU TKA ATT. Jovi is a cute little blue merle girl who is co-owned with Kristy in Indiana. Jovi's mother is Shine and she is a sister to Dare and Skye as well as a half sister to Naughty and Blaze. Jovi is a very busy girl who loves Agility, Scent Work, Coursing and Rally. Jovi is competing at the Detective Level in AKC scentwork and was qualifying at under 2 years old.
Skye - Crimson's Watch Me Shine RE FDC NAP OJP CGCA TKN (AKC pointed). Handsome Skye is co-owned with Cheri in Florida and is a black tri. Skye's mother is Shine. Skye is a brother to Dare and Jovi and a half brother to Naughty and Blaze. Skye completes in Rally and Agility.
Spring - Crimson's Hot Spring Running Through CedarWoods NA NAJ BCAT TKI is a sweet red tri girl co-owned with Debi in Missouri. Spring's parent's are Sparkle and Captain. Spring compets in Conformation, Agility, Fast Cat & Rally Obedience. She has also started herding lessons.
Blaze - Crimson's Blaze of Glory is co-owned with Monica in Missouri. This cute red merle boy is striking and will show in Conformation and then get to play Agility with Monica. Blaze's mother is Shine and he is a litter brother to Naughty, half brother to Dare, Jovi and Skye