Our co-owned dogs
Breeze
Crimson's Bahama Breeze RN is a sweet little red tri girl from parents Splash and Captain. Breeze loves her people, her Pomerian brothers and her cats.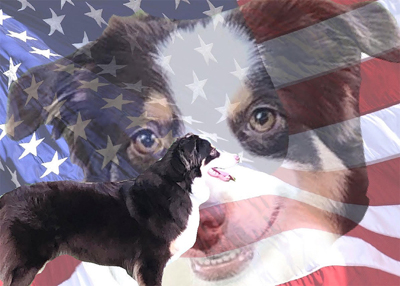 To learn more about Breeze please visit her page ~ Breeze
Jovi - URO1 Crimson's Shine Like A Rockstar RN FDC NA NAJ NF CA DCAT SWE SCM SEM RATN CGCA CGCU TKA. Jovi is a cute little blue merle girl who is co-owned with Kristy in Indiana. Jovi's mother is Shine and she is a sister to Dare and Skye. Jovi is a very busy girl who loves agility, scent work, and coursing. Jovi is competing at the Detective Level in AKC scentwork and is qualifying at under 2 years old.
Skye - Crimson's Watch Me Shine RE FDC NAP NAJ CGCA TKN (AKC pointed). Handsome Skye is co-owned with Cheri in Florida and is a black tri. Skye's mother is Shine. Skye is a brother to Dare and Jovi and he is just starting to compete in agility.
Spring - Crimson's Hot Spring Running Through CedarWoods is a sweet red tri girl co-owned with Debi in Missouri. Spring's parent's are Sparkle and Captain. Spring will compete in conformation and agility and has already started her herding lessons.
Blaze - Crimson's Blaze of Glory is co-owned with Monica in Missouri. This cute red merle boy is striking and will show in conformation and then get to play agility with Monica.