Ch. Crimson's Caught Red Handed
Naughty is a special little red merle girl who was born at Crimson Miniature American Shepherds on June 23, 2022. Our outstanding girl Shine is her mother and Sparkle is her aunt. Naughty's father is Gold Grand Champion Blue Elk Beginning of an Icon (Legend) who is one of the top dogs in our breed. Naughty was co-bred with Sheila Hoskins at Woodridge Aussies and is owned by Teresa at Crimson MAS. This special girl isn't a naughty puppy though, she is very sweet and loves to cuddle. Naughty's biggest vice is that she loves to hide her toys and chewies so she can guard them from the other dogs! Naughty is 15" tall at 8 months old and shouldn't get much larger. Naughty won a Best in Show puppy at a UKC show when she was just under 4 months old and has been competed in Beginner Puppy classes at AKC shows.

NEW CHAMPION - pending AKC verfication – Naughty earned her AKC championship at 8 1/2 months old in four shows with four majors. Look for this special young lady in the Best of Breed ring in the near future as we work on her Grand Championship.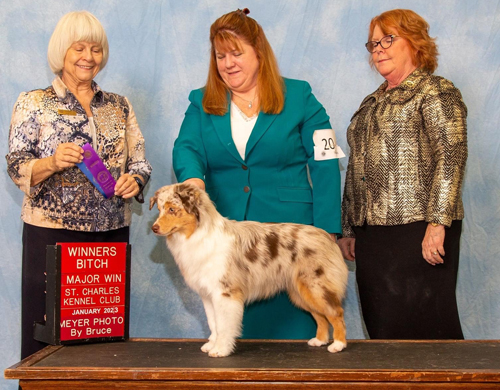 Health testing –
Genetic Tests Clear: MDR1, CDDY, IVVD, CDPA, CEA, DM, HSF4, HUU, CRM1, CLN6, CLN8, PRA-PRCD,
Merle – m/M268 (classic merle)
E Locus – E/E (no yellow)
OFA Eyes: Clear
OFA Hips: too young
OFA Elbows: too young
OFA Patellas: too young
OFA Dentition: too young
Naughty's OFA testing link: Crimson's Caught Red Handed at OFA
Naughty's Paw Print Genetics link - Crimson's Caught Red Handed Paw Prints Genetics