UKC Ch. UKC BISS UAG1 IA AKC GChB Ch Woodridge Moonshine In The Trunk BN RI HT FDC OA AXJ OF FCAT3 SCN CGCA CGCU TKI ATT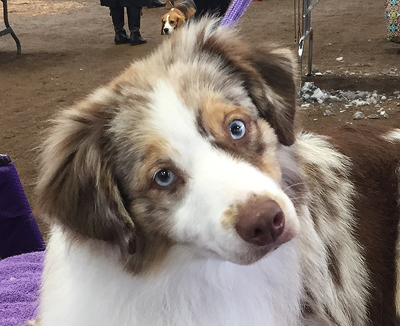 Shine is a beautiful red merle girl standing 16 inches tall and weighing 24 pounds.

Shine is a hoot and always keeps us in stitches. She is a medium drive girl who adores the water, swimming, kayaking, and all outdoor activities. Shine was bred by Gary & Sheila Hoskins at Woodridge Miniature American Shepherds and we co-own Shine with Sheila. Shine is everything we could ask for in a companion and more! Shine loves to learn and has titles in Conformation (UKC and AKC), Agility, Obedience, Fast Cat, Scent Work & Rally Obedience. She just started competing in agility and Scent Work and I'm sure more titles will come soon. Shine also has her Advanced & Urban Canine Good Citizen certificates, she passed the AKC temperament test and has earned certificates in Farm Dog & Trick Dog. We love this girl's personality and she always makes us smile and laugh. She is fun, outgoing, friendly, curious, active but with an "off switch".
Shine puppies make wonderful pets and amazing performance dogs. Shine puppies have titles in Agilty, Rally Obedience, Fast Cat, Coursing, Barn Hunt, Farm Dog, Scent Work, Trick Dog, Canine Good Citizen and Shed Hunting.
Shine finished 2018 as the number 8 owner-handled conformation dog per AKC statistics and competed in the owner-handler finals in Orlando December 2018. We may not have come home with a win but she is always a winner with us. For most of 2019, she was in the top 10 owner-handled dogs as well but we changed to doing more performance events after she earned her Bronze Grand Championship with AKC.
Shine is registered with AKC and UKC and also in the OFA CHIC program for having all of the health testing done as recommended by the Miniature American Shepherd breed club.

Health testing –


Genetic Tests Clear: CDDY, IVDD, CDPA, PRA-PRCD, CEA, CD1, DM, HC, HUU, CMR1, NCL6, NAD
MDR1: carrier
Merle – m/M268 ("classic" merle). Yellow - E/e (carrier)

https://www.pawprintgenetics.com/pedigrees/dogs/details/6034/


OFA Hips: Good
OFA Elbows: Normal
OFA Patellas: Normal
OFA Eyes: Clear
Dentition: Normal (full dentition). Scissors bite

CHIC #140283

OFA health testing link: Shine's Orthopedic Foundation for Animals Results